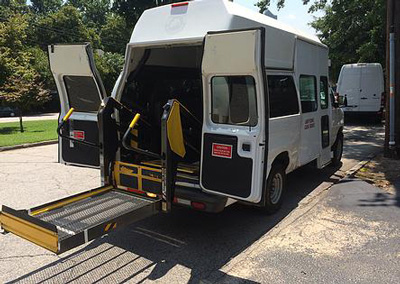 At Ride Aid Transportation, we bring independence to our customers by providing the highest quality door-to-door, non-emergency medical transportation (NEMT) services at an affordable rate in the metro Atlanta area.
WHEELCHAIR TRANSPORTATION
Our wheelchair lift vans are designed to safely transport any client who needs a wheelchair. Our vehicles will accommodate any wheelchair or power scooter. All of our wheelchair vans are compliant with the Americans with Disabilities Act rules and regulations.
AMBULATORY TRANSPORTATION
Our ambulatory transportation service is designed for individuals that are able to walk, but have limited mobility. Our drivers are professionally trained to safely assist individuals in and out of our vehicles.
SHUTTLE SERVICE
Take advantage of our shuttle service for your group transportation needs. Our spacious vehicles will transport clients to weddings, shopping centers, worship centers, family reunions, or to any other desired destinations. Our vehicles have a daily, weekly and monthly inspection checklists they must go through in order to provide you with the highest quality service.
CONSULTING SERVICE
Our service is created to design a customized transportation solution at an affordable rate specific to your facility. We will coordinate with your facility and estimate the best transportation plan for your company and budget.
---
Medical/Dental Appointments
Doctor's Office
Treatment Centers (Chemo, Radiation, Dialysis)
Hospital Discharges
In-patient and Out-patient surgeries
Prescription Pick-Up
Community Events
Elderly and Special Needs
Family Reunions
Holiday and Religious Gatherings
School Trips and Special Events
Senior Living Facilities
Day-to-Day Errands
Grocery Stores
Shopping Centers
Beauty Salons/Barber Shops